Panagora Group Announces Transition to Employee Ownership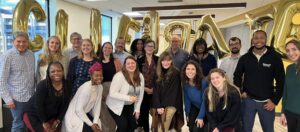 Proud to be Woman- and Employee-Owned
Panagora Group is proud to announce that, in addition to being woman-owned, we are now also employee-owned. As of June 30, 2021, we are officially 49 percent employee-owned through an ESOP (Employee Stock Ownership Plan). Founder, President, and CEO Betsy Bassan says, "We want to create a pathway for sustainability and continued success at Panagora while deepening our existing ownership culture and staying true to our mission to make our world a better place for good. We also want to follow a business model that further prioritizes employee benefit, with greater profit-sharing based on company performance. Employee ownership is a proven way to accomplish these goals."  
Betsy continues to be the majority owner of Panagora Group and our leadership and management teams remain intact and fully committed to providing our clients with high-quality and innovative solutions in health, development, and learning. 
Reflecting our Values
The ESOP enables us to recognize the outstanding work and dedication of our employees, while creating a sustainable ownership structure for remaining independent and mission-driven. It demonstrates our deep and enduring commitment to our mission, and our core values of passion, excellence, innovation, and sustainability.  
By establishing an ESOP, Panagora joins a growing number of businesses in the U.S.— including several leading firms in the international development sector such as Abt Associates, Chemonics International, and DAI—for which employee ownership is key to their long-term success and sustainability.  
Investing in Success
ESOPs provide a robust profit-sharing model that gives employees a long-term financial stake in the success of the company. Research consistently shows that employee-owned companies tend to out-perform their competitors in the marketplace in terms of productivity, employee retention and lower layoffs, wealth building and sharing, and other performance metrics.*
"I am proud to work at a company that enacts lasting positive changes in international development," says James Fang, a new business manager at Panagora. "Panagora's transition to an employee stock owned company further strengthens my personal commitment, and the commitment of a team full of dedicated and enthusiastic employees. I am excited to have a deeper ownership stake at Panagora and look forward to partnering further with our clients to support their continued success." 
---
* Research on Employee Ownership, Corporate Performance, and Employee Compensation | NCEO